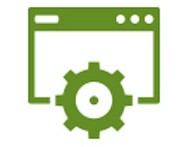 Digital marketing engages an audience online and has a language all its own, which requires proven expertise to execute successful campaigns. Our extensive experience with multiple digital strategies brings scale, precision and sophistication that builds measurable brand exposure to increase your ROI.
Our digital marketing tactics encompass digital paid media, search engine optimization, search engine marketing, content marketing, email marketing and social media.  Today all digital growth comes from increased mobile usage, which means a digital marketing strategy is essential for your business to remain competitive. 
Digital Paid Media
Today much of all paid media buying is placed in the digital space.  This includes standard banner display ads, video ads, streaming audio content, programmatic digital ads, podcasts or connected television.  Benefits of digital media include the ability to fine tune a targeted audience, start quickly, test multiple campaigns simultaneously, and excellent performance reporting, which allows us to track response and adjust strategy in real time.
Search Engine Optimization (SEO)
The goal of SEO is to get a business to rank higher in Google search results, ultimately increasing search engine traffic to the business's website. To accomplish this, we research keywords and phrases consumers use to search for information online. SEO requires constant attention and is challenging because it relies on Google's changing algorithms and policies.   Our SEO analysts are skilled optimizers who maintain current knowledge of all developments and best practices in SEO.
Search Engine Marketing (SEM)
Search Engine Marketing (SEM), is a digital marketing strategy used to increase visibility of a website in search engine results. Search engine marketing is sometimes referred to as Pay Per Click (PPC) advertising. The approach uses paid methods such as Google Ads or You Tube ads to appear in search results. SEM is often combined with Search Engine Optimization (SEO) to reach a broader online audience.
Content Marketing
Content marketing uses storytelling and information sharing to increase brand awareness. Ultimately the goal is to have the reader take an action towards becoming a customer, such as requesting more information, signing up for an email list, or making a purchase. "Content" can mean blog posts, white papers, digital video, podcasts or 'native content', which is hosted on third party paid media platforms.
Email Marketing
Mobile responsive email marketing is a cost-effective tool to engage customers on all devices, drive repeat business and push traffic to your website, as well as easily share your message to social media platforms.  Integrated properly, email marketing can turn one-time customers into happy loyal fans.
Social Media
Social media allows small businesses to talk directly to customers and followers. It lets you build a relationship over time, rather than asking for an immediate sale.  Almost half of all digital consumers use social media platforms such as Facebook and Instagram to research products or brands.
What is Programmatic Media?
Programmatic media buying and advertising uses algorithms and automated software to purchase advertising space during real time bidding auctions. Its objective is to place highly targeted direct response display banner ads across a wide network of published websites.
How Does It Work?
There are millions of high value online publications that sell advertising space in the form of digital banner ads on their websites. They range from large national premium news organizations, trade publications, sports publications, online magazines, and subscription-based websites to smaller interest based online publications.
Programmatic media uses real time bidding to buy inventory across many websites and place ads only on websites that will target your audience. It is similar to the bidding process used in Google AdWords, but instead of being keywords based it is placement based.
Programmatic systems allow advertisers to select granular audience metrics using geographic and demographic parameters as well as content or behavioral based targeting. Once an audience profile is built software is used to determine which are the best websites to serve your ad and programmatic systems begin to bid for the inventory on those sites. The ability to fine-tune your target to this degree helps eliminate waste and builds a strong ROI.
It allows business owners of all sizes the potential to compete with national advertisers by placing highly targeted digital advertising across a large quantity of high value nationally published digital platforms.
What Are The Benefits Of Programmatic Ad Buying?
Increased ad efficiencies.
Ability to test multiple sets of creative simultaneously.
Reduced overall advertising costs.
Ability to optimize and target the right audience in real time.
Leveraging unique data sets, both first- and third-party.
Building effective cross-device campaigns.
Digital Marketing Services 
Content Marketing
Programmatic Targeting
Podcasts Advertising
Streaming Digital Radio
Connected TV
Mobile App Advertising
Email Marketing
Social Media Marketing
Search Engine Optimization 
PPC Google Ads