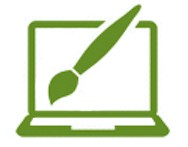 Your website is the face of your company, the place where your brand can connect with your audience to build trust and guide visitors to take action.  It requires thoughtful collaboration to determine the purpose and a logical path that is effective in achieving your business goals.
At Sugartown Communications, we believe successful web design combines three components:  strategy, creativity, and technology. A strategy that not only tells your story but focuses on the benefits you bring to your customer. A visually beautiful design that is intuitive to the user, and technology that delivers mobile-friendly websites that are seamless to use regardless of what device you are using.  
Strategy
The initial phase begins with an evaluation of your existing website to access your strengths, weaknesses, and effectiveness. We determine your target audience, how to best position your business in the marketplace, decide on project goals and research competitor's websites.  Once the project logic is established, we prepare a simple website map to use as a project management tool for both our development team and your use internally.  This helps keep the project on track, on time and within the established budget.
Creativity
Visual appeal that is directed to your targeted audience, combined with a user interface that quickly provides information, are important elements that provide a positive user experience. Your website should also be an extension of your brand that is consistent with what your customers experience offline.  As a full-service ad agency, we offer much more than web design, but are a team of marketing professionals who understand the importance of consistent branding. We make certain your company's voice and personality will be prominent throughout your website's design to continue a connected brand experience for your customers.
Technology
Responsive design technology is one of the most important and critical components of any website today. Responsive web design allows your site to adapt to any device and screen size, making your site easy to use and navigate from any platform. It also eliminates the need for developing a separate mobile site in most cases, making it a cost-effective design tool. Our development team will create a responsive website that will make your site easy to use for your visitors. A positive user experience encourages visitors to revisit your website in the future whether they are on mobile, desktop or tablet.
You're A New Business and Need A Website
A good website is the cornerstone of any business's marketing strategy and usually the first connection a potential customer has with your business.  But where to begin may feel daunting. We organize each project to walk you through the process one milestone at a time, from setting up your domain name and website hosting through making your website live.  At Sugartown Communications we offer simple, effective websites that are scaled to meet the needs of businesses and organizations of all sizes.
Your Website Is Not Mobile-Friendly
The number one reason your site does not work well on mobile is simply because it does not use responsive web technology, but instead an outdated technology.  A mobile optimized website built with response web technology can be easily viewed on desktops, smartphones, and tablets. More than half of all web traffic comes from mobile devices, and Google prioritizes mobile friendly sites. Few aspects of digital marketing are as important as ranking well on Google. If your website is not mobile optimized, you are losing customers.
You've Outgrown Your Current Website
Web design and technology is evolving at record speeds and if you want to remain competitive and have an easy to maintain website you need to keep up. Perhaps your website is too slow loading pages providing an unpleasant user experience. Inefficient coding may display incorrectly in some newer browsers and can make simple updates difficult and costly.  Or has your business simply changed its brand and messaging and your site looks outdated?  If so, it's time for a facelift.
You've Heard You Need SEO
Search Engine Optimization may seem confusing, yet it is a powerful digital marketing tool you should consider. However you need a properly designed website for SEO to be effective.  To simplify, SEO leads customers to your business when they are searching for your product or service.  It provides data and analytics that impact marketing strategy. And in many cases, your competition is already taking advantage of the power of SEO.
Website Strategy
Frontend Design
Backend Development
Content Development
Blog Integration
Landing Page Creation
Hosting and Support
Maintenance Plans
Content Management Training 
Search Engine Optimization
Search Engine Marketing
Analytics & Reporting