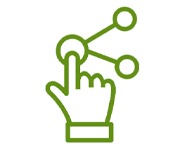 Social Media That Keeps You Connected
Merging the targeting strength of Facebook and Instagram with engaging photography, on point messaging and social savvy creates powerful website drivers so you engage more customers.
Each social media campaign is optimized, reviewed and adjusted using analytics, not guesswork. Every social strategy is client specific, to ensure you share your story with the right geographic and demographic target audience and your individual business goals are achieved.
Best Practices Include:
Mapping your business goals to the most impactful objective for conversions across Facebook and Instagram to maximize campaign results.
Implementing solutions like conversion tracking and Facebook pixels to increase online or offline sales.
Using tools for reaching people who are likely to engage with your ads through retargeting, Custom Audiences, bidding strategies and more.
Do I Need a Facebook Business Page?
We recommend all business owners create a Facebook business page as part of an integrated digital marketing strategy.  Facebook is the one of the most widely used social networks and its integration with Instagram allows for a seamless approach to broaden your social reach.  After your website, Facebook is the place where people go most often to get information about your business, but many businesses don't have a Facebook page.
What's The Difference Between a Business Profile and a Business Page?
When you set up a profile for your business, you are creating a separate account for your business as if it were a person. An easy way to remember the difference between a Facebook profile and a Facebook page is that that Facebook profiles are for people, while Facebook pages are for businesses.
What Are the Benefits of a Facebook Business Page?
One of the biggest benefits of a Facebook business page is that it provides opportunities for your business's content to be shown to people on Facebook through likes, shares, and comments. This type of exposure is referred to as organic reach.  If your business is a profile instead of a page, only people who are friends with you can see what you post. This is the opposite of organic reach, which is something that you want to try to maximize.
Facebook Ads further increase your visibility and how far your reach can go. We use Facebook retargeting and boosting campaigns to target who will see your ads based on factors such as age, location, and interests. Since we can pick and choose who sees your ads, your business will get pushed out to a relevant audience and can produce real results.
Social Strategy
Demographic Targeting
Geographic Targeting
Paid Advertising
Content Copywriting
Photo Selection 
Social Media Audits
Boosting Campaigns
Retargeting Campaigns
A/B Testing
Conversion Tracking
Performance Reports